Type XXI U-Boats

Printed From: Enfield-Rifles.com
Category: Off Topic
Forum Name: Military Talk
Forum Description: Feel free to talk about anything military related.
URL: http://www.enfield-rifles.com/forum_posts.asp?TID=750
Printed Date: July 10 2020 at 11:37am
Software Version: Web Wiz Forums 12.01 - http://www.webwizforums.com


Topic: Type XXI U-Boats
---
Posted By: Cookie Monster
Subject: Type XXI U-Boats
Date Posted: January 27 2007 at 3:54am
---
Type XXI Elektroboat U-Boat
The Type XXI reached the battlefield too late to have a profound effect on the course of the war, but it was one of those weapon systems which had completely revolutionize the face of submarine warfare. Had she been launched two years earlier, it would have caused considerable problems to the Allies in the Battle of the Atlantic.
---
Replies:
---
Posted By: Cookie Monster
Date Posted: January 27 2007 at 3:55am
---
Before the Type XXI, submarines would have been more accurately termed as submersible boats, as they were surface vessels with the special capability to submerge when threatened. Underwater, they were slow and un-maneuverable and could remain submerged only for limited periods of time. They had to surface to run their diesel engines in order to recharge their batteries and replenish their compressed air supplies.
---
Posted By: Cookie Monster
Date Posted: January 27 2007 at 3:58am
---

The Type XXI however, was designed from the beginning as a true submarine, whose natural habitat was in the depths. Almost everything about the submarine was new and out of all proportions, achieved unconventional underwater performance far beyond the capabilities of any submarine then either in service or under development. She was designed to have a faster speed submerged than when running on the surface. Equipped with air-conditioning, she was designed to spend most of her time underwater and could remain submerged for up to 11 days at a time, briefly surfacing for only 3 to 5 hours to recharge her batteries. For this, the Type XXI had a full streamlined outer hull and complete absence of clutter on the deck. The forward hydroplane retracted when not in use, there were no deck guns, the twin 20mm AA flak were mounted in streamlined housings, and all extending devices such as schnorchel, antenna, and DF loop retracted into the superstructure when not in use. Instead of the traditional open conning tower, there were three small openings at the top of the bridge, one for the watch officer and the other two for lookouts. Internally, the cross section of the pressure hull was a figure of eight, with the upper section being of greater diameter than the lower. The batteries were housed in the lower section. She had three times the battery capacity and with her new creep motor, the Type XXI was very silent when running underwater. By comparison, the Type XXI at 15 knots emitted the same noise as a US Navy Balao class boat at 8 knots. Her pressure hull was fabricated from 1 inch thick steel aluminum alloy, which allowed a maximum crush depth of 280 meters (919 feet); the deepest of any military submarine at that time. The streamlined hull also offered a much smaller sonar signature and with her silent running capability, and high underwater speed, she was a much more difficult boat for enemy ASW vessels to find or detect. Equipped with a sophisticated echo chamber, which could identify, track and target multiple vessels, the Type XXI could fire blind from up a depth of 160 feet. Her firepower was also increased significantly. With a new rapid reloading hydraulic system, the Type XXI could launch three six torpedo salvos or eighteen torpedoes in just under 20 minutes; whereas it took over ten minutes to reload just one tube on the Type VIIC. This meant that the Type XXI could attack more vessels in a single engagement. The increased space also allowed more torpedoes to be carried – 23 instead of 14 on the Type VIIC.
---
Posted By: Cookie Monster
Date Posted: January 27 2007 at 4:00am
---

The new Type XXI. Note the streamlined hull and complete absence of clutter on the deck. All external mountings retracted into the superstructure when not in use
---
Posted By: Cookie Monster
Date Posted: January 27 2007 at 4:02am
---
The Germans had made a quantum leap in submarine design and development, but as with all new technology, teething problems were encountered. Due to the desperate situation at sea, the Type XXI was given the highest priority with orders for all other types cancelled. To speed up production, the submarine was constructed on a modular basis, with different modules built by different shipyards. The prime reason for this was to utilize shipyard resources to the maximum, and to present the strategic Allied bombings with many smaller scattered targets. In order to spur the scarce manpower to greater endeavors, tight deadlines were set with production forecasts set to be deliberately over optimistic. As a result of this, tremendous strain was placed on the production line and so great was the urgency, that in an attempt to meet the schedule, improperly constructed modules were often sent forth, even when they had not been thoroughly fabricated. These modules often did not meet the fine tolerances required to be assembled by the next link in the chain, causing further confusion and delays to the process. Constant allied bombings, logistical headaches and shortages of material and labor added to the problem. On numerous occasions, politics had also influenced the program with the more prominent occasion being that the first Type XXI was to be launched in time for Hitler's birthday. Although this was achieved, but the ill completed submarine had to be kept afloat by buoyancy bags and immediately towed to the dry dock after the presentation. The outcome of all the pressure and trimming of corners meant that the completed boats had to be returned to dock to be reworked and repaired, resulting in further delays in attaining full service status.
By 1945, the situation grew hopelessly worse for the Type XXI program. Massive allied bombings resulted not only in the destruction of shipyards and construction facilities, but also of completed submarines while fitting out or in some cases while undergoing trials. Seventeen completed Type XXIs were destroyed while in harbor between December 1944 and May 1945.
The reality was that Germany could not afford to undertake such an ambitious project in such a short space of time. Too much was demanded of those involved, that the system ultimately collapsed under its own strain. The reasons were diverse, but in part it was due to the fact that Germany did not have much time left. With every passing day, the U-boat force was being defeated on the Battle of the Atlantic – and something had to be done, anything – to prevent defeat.
Of the 120 submarines built, only two had entered operational status. Given their limited deployment, the new submarines were quite successful, and would have caused the allies serious problems. However it was a case of too late and there were never enough of these new boats to make any real difference. After the war, the design of the Type XXI continued to influence modern submarine development in many countries, including the Soviet Union who based their W-Class on the Type XXI.
Combat Service
Only two war patrols were carried out in the Type XXI.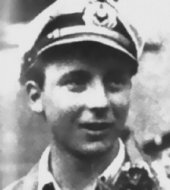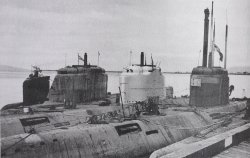 Adalbert Schnee - one of two skippers who took a Type XXI into combat.
Donitz had pinned his hopes on the Type XXI to restore the technical balance to the U-boat force.
April 30 1945, the situation at sea was nearly hopeless for most U-boat captains. But for KK (Korvettan Kapitan) Adalbert Schnee, his situation was different. Of the two new operational Type XXIs, he was in command of one of them – U-2511. Schnee was under orders to sail from Bergen, Norway, and to make his way to the Carribbean. His orders were not to attack any ships on his outbound journey, but the boat was detected by an anti-submarine patrol group. Traveling faster underwater than the escorts could on the surface, he easily outran the escorts. He was in command of a new boat, one which would make hunting as easy as it had been during the "Happy Time". Then on May 3 1945, the unthinkable, but inevitable happened. A message from BdU: Germany had surrendered. All U-boats were ordered to cease hostilities and were to sail to the nearest allied port under a black flag. Nevertheless, U-2511 had the British cruiser HMS Suffolk in its sights. Schnee carefully evaded the heavy escort screen, closed in to 600 meters of the cruiser, and raised the periscope. The torpedoes were primed, and he ordered the tube doors opened. As the British cruiser crossed the targeting crosshair on his periscope - instead of giving the order to fire, he simply cursed, lowered the scope, dived under the target and made off for Norway, unknown to those sailing above him.
The other Type XXI, Kptlt. Helmut Manseck of U-3008 had just sailed from Wilhelmshaven on May 3, 1945. Shortly after departing, the message of Germany's surrender was received, Manseck spotted a British convoy and carried out a dummy attack. He slipped away undetected and returned to port.
Technical Specification
Type XXI Elektroboat
Role
Long Range
Attack Submarine
Displacement
Surfaced
Submerged

1,621 tons
1,819 tons
Dimensions
Length
Beam
Draught

251.6ft (76.7m)
21.6ft (6.6m)
20.7ft (6.3m)
Top speed
Surfaced
Submerged

15.7 knots
17.2 knots
Maximum range
Surfaced at 12kt
Submerged at 6kt

11,150nm
285nm
Crush depth
919ft (280m)
Engines
Diesel
Electric
Creep motor
Battery

Two MAN M6V 40/46; 2,200hp
Two SSW 2 GU 365/30; 2,500hp
Two SSW GW323/28; 323hp
Three 124 cell batteries
Weapons
Bow tubes
Stern tubes
Torpedo capacity
Mines
Guns

Six 21 inch
None
23
TMC mines
2 x 20mm Twin Flak
Crew
57
Total built
120 (2 operational)
First launch
April 19, 1944
---
Posted By: Cookie Monster
Date Posted: January 27 2007 at 4:07am
---
---
Posted By: Cookie Monster
Date Posted: January 27 2007 at 6:18am
---
http://www.pbs.org/wgbh/nova/lostsub/hist1939n07.html">

Note the figure-eight cross section of this Type XXI's pressure hull. Designers initially built the lower section for storage of hydrogen peroxide for a Walter powerplant, but it became instead the compartment for the enlarged battery capacity that gave these boats the nickname "Electroboot."
---
Posted By: Cookie Monster
Date Posted: January 27 2007 at 6:20am
---
http://www.pbs.org/wgbh/nova/lostsub/hist1939n08.html">

U-3008, one of only two Type XXI U-boats to make a wartime patrol. It was brief: The war ended while the boat was en route.
---
---
Posted By: Cookie Monster
Date Posted: January 27 2007 at 6:21am
---
---
Posted By: Cookie Monster
Date Posted: January 27 2007 at 6:22am
---
For some, the war ended too soon. With more hope than sense, Germany had more than 1,900 Type XXI and Type XXIII submarines under construction or on order on the last day of the European war.
---
Posted By: White Rhino
Date Posted: January 27 2007 at 9:23am
---
Hey I can see the pictures again! must have done some good to Defrag my computer. I think?

-------------
"White Rhino"

"Everybody's got to believe in something. I believe I'll have another beer." --W. C. Fields
---
Posted By: allan
Date Posted: January 27 2007 at 12:35pm
---
so thats whats patrollin around hoadies lakes.mate impressive stuff...dunno about watchin them race though..thats just downright creepy!

-------------
'SAVIOUR OF OUR SKIES BOYO!'
---
Posted By: Hatchetman
Date Posted: January 27 2007 at 2:59pm
---
The type XXI, what a revolutionary concept in submarine warfare.

Thankfully for the allies they wernt ready in time for the war, you could only guess what effect they would have had.

The type XXI was so different to what was out there at the time, and pretty much every military submarine since has been baised on the blueprint set out by the type XXI.

---
Posted By: allan
Date Posted: January 27 2007 at 3:03pm
---
revolutionary like the kursk...oops.



-------------
'SAVIOUR OF OUR SKIES BOYO!'
---
Posted By: Cookie Monster
Date Posted: January 28 2007 at 2:16am
---
Type XXI U-boat
Type XXI U-boats, also known as the "Elektroboots," were the first submarines designed to operate entirely submerged, rather than as surface ships that could submerge as a temporary, awkward mode of operation.
Type XXIs had much better facilities than previous classes, with a freezer for foodstuffs and minor conveniences for the crew such as a shower and wash basin. They were much quieter, and enjoyed a hydraulic torpedo reload system that allowed all six torpedo tubes to be reloaded faster than a Type VIIC could reload a single tube. Improvements in battery design yielded a storage capacity roughly three times that of a Type VIIC, giving these boats enormous underwater range. They could travel submerged at about five knots for two or three days before recharging the batteries, which took less than five hours on the snorkel.
Between 1943 and 1945, 118 boats of this type were built by Blohm and Voss of Hamburg, AG Weser of Bremen, and F.Schichau of Danzig.
U-2501 - U-2502 - U-2503 - U-2504 - U-2505 - U-2506 - U-2507 - U-2508 - U-2509 - U-2510 - U-2511 - U-2512 - U-2513 - U-2514 - U-2515 - U-2516 - U-2517 - U-2518 - U-2519 - U-2520 - U-2521 - U-2522 - U-2523 - U-2524 - U-2525 - U-2526 - U-2527 - U-2528 - U-2529 - U-2530 - U-2531 - U-2533 - U-2534 - U-2535 - U-2536 - U-2538 - U-2539 - U-2540 - U-2541 - U-2542 - U-2543 - U-2544 - U-2545 - U-2546 - U-2548 - U-2551 - U-2552 - U-3001 - U-3002 - U-3003 - U-3004 - U-3005 - U-3006 - U-3007 - U-3008 - U-3009 - U-3010 - U-3011 - U-3012 - U-3013 - U-3014 - U-3015 - U-3016 - U-3017 - U-3018 - U-3019 - U-3020 - U-3021 - U-3022 - U-3023 - U-3024 - U-3025 - U-3026 - U-3027 - U-3028 - U-3029 - U-3030 - U-3031 - U-3032 - U-3033 - U-3034 - U-3035 - U-3037 - U-3038 - U-3039 - U-3040 - U-3041 - U-3044 - U-3501 - U-3502 - U-3503 - U-3504 - U-3505 - U-3506 - U-3507 - U-3508 - U-3509 - U-3510 - U-3511 - U-3512 - U-3513 - U-3514 - U-3515 - U-3516 - U-3517 - U-3518 - U-3519 - U-3520 - U-3521 - U-3522 - U-3523 - U-3524 - U-3525 - U-3526 - U-3527 - U-3528 - U-3529 - U-3530
Type XXIII U-boat
The Type XXIII U-boat was designed to operated in the shallow littorals of the North Sea, the Black Sea, and the Mediterranean Sea, where the larger Type XXI Elektro boats would be at risk. They were so small that they could carry only two torpedoes, which had to be loaded externally.
The first Type XXIII, U-2321, was launched from Deutsche Werft in Hamburg on April 17, 1944. She was one of six XXIIIs that went on operational patrol around the British Isles in early 1945. Forty-eight others followed from Deutsche Werft and thirteen from Germaniawerft of Kiel. U-4712 was the last one launched, on April 19, 1945.
The first patrol by a Type XXIII began when U-2324 put to sea on January 29, 1945. U-2336 under the command of Kapitänleutnant Klusmeier sank the last ships lost in World War II on May 7 when he torpedoed two British freighters inside the Firth of Forth.
None of the six operational Type XXIIIs -- U-2321, U-2322, U-2324, U-2326, U-2329, and U-2336 -- was sunk by the Allies during World War II. These boats sank or damaged five ships for a total of 14,601 tons.
Seven Type XXIIIs were lost to various causes.
U-2323 was sunk by a naval mine on July 26, 1944.
U-2331 was lost in a training accident on October 10, 1944.
U-2338 was the only XXIII to be sunk by the enemy. British Beaufighter aircraft killed 12 crewmen and sank the boat east-northeast of Frederika on May 4, 1945, before she ever went on combat patrol.
U-2342 was sunk by a naval mine on December 26, 1944.
U-2344 was rammed and sunk by U-2336 on February 18, 1945.
U-2351 was paid off in April 1945 after bomb damages.
U-2367 was rammed and sunk by an unidentified U-boat on May 5, 1945.
In early May 1945, 31 XXIIIs were scuttled by their crews. Twenty surrendered to the Allies and were sunk in Operation Deadlight. Only three -- U-2326 (later British submarine N-35), U-2353 (later British submarine N-37), and U-4706 (later Norwegian submarine Knerten) -- survived the war.
U-2321 - U-2322 - U-2323 - U-2324 - U-2325 - U-2326 - U-2327 - U-2328 - U-2329 - U-2330 - U-2331 - U-2332 - U-2333 - U-2334 - U-2335 - U-2336 - U-2337 - U-2338 - U-2339 - U-2340 - U-2341 - U-2342 - U-2343 - U-2344 - U-2345 - U-2346 - U-2347 - U-2348 - U-2349 - U-2350 - U-2351 - U-2352 - U-2353 - U-2354 - U-2355 - U-2356 - U-2357 - U-2358 - U-2359 - U-2360 - U-2361 - U-2362 - U-2363 - U-2364 - U-2365 - U-2366 - U-2367 - U-2368 - U-2369 - U-2371 - U-4701 - U-4702 - U-4703 - U-4704 - U-4705 - U-4706 - U-4707 - U-4709 - U-4710 - U-4711 - U-4712
---
Posted By: Cookie Monster
Date Posted: January 28 2007 at 2:18am
---
U-2540
---
Posted By: Cookie Monster
Date Posted: January 28 2007 at 2:21am
---


U-3008, one of only two Type XXI U-boats to make a wartime patrol – albeit brief, as the war ended en route.
---
Posted By: Cookie Monster
Date Posted: January 28 2007 at 2:26am
---
The mass production and build programme for U Boats during WWII was incredible in speed, accuracy and co-ordination. The German Navy accepted 1,158 U Boats into service that were built during the war. These were mostly in prefabricated sections and floated to the coast on barges, where they were welded together and launched at such places as Howaldswerk in Keil. The most prolific build programme was for the Type VII and over 500 of these were constructed. As new technology progressed, the U Boats pioneered many features which were ground breaking, including deep diving techniques, made possible by quality build contruction and heavy gauge pressure hulls, which led to shallow set depth charges to miss their target. The Royal Navy based depth charge settings on their own experiences of submarine depth capabilities. It was several years before U Boat deep diving techniques became known.

Rubber coatings of "Alberich" for the upper works and Conning Towers were designed to absorb radar emissions and delay detection while on the surface in response to the growing threat of night time use of radar by Allied aircraft, while U Boats were on the surface charging batteries and replenishing the air supply. In addition, special high capacity batteries were developed for U Boats that could produce higher underwater speeds than the Royal Navy Boats and enable 17 knot underwater escapes from attackers. The picture shows Admiral Donitz, leader of the U Boat arm of the German Navy, who always tried to meet returning crews in person.
---
Posted By: Cookie Monster
Date Posted: January 28 2007 at 2:26am
---

U Boat production began prior to WWII in order to comply with the current naval restrictions in force after the first war, an all welded construction was used to save weight. This had the added side effect of adding great strength to the pressure hull. A smaller than average conning tower was also designed - again to save weight. The Type I displaced about 980 tons, compared to the British T class of 1,575 and the American Salmon class of 2,210 tons. A distinctive feature of the Type I was the "sharks teeth" net cutter on the bows and full length guard wires on the upper deck - both of these features were later to be discarded.

A later development of the craft was the IA, which showed improvements in manouvrebility and stability on the surface. The Type IA carried four torpedo tubes forward and two aft and these were built to the international standard of 21" or 533 mm and the previous 500mm standard was dropped. The boat carried a single 105mm gun on the foredeck and a single 20mm cannon on the conning tower. Speed was 17 kts on the surface and 8.3 kts submerged. Length overall was 237 feet and 20 feet beam and with a draught of 14 feet. Two such craft were built U 25 & U 26 and launched in 1936 - they were both lost in 1940
---
Posted By: Cookie Monster
Date Posted: January 28 2007 at 2:33am
---
Type IIA U Boats

As a result of the relaxation of the Treaty of Versailles and with consent to build U Boats granted by the Anglo-German naval agreement, designs were worked up for an improved version of the German WWI boats. Designs had been produced post war and a boat had already been built in Finland to avoid the Treaty. The first Type II was launched in 1935 as U 1. These were designated as Coastal Boats and were known as "Einbaume" or dugout canoes. Developments and improvements followed rapidly and types were known as IIA IIB IIC IID with increased endurance and reduced diving times. Speed was 13kts on the surface and 7 kts submerged. They carried three torpedo tubes forward and one 20mm gun. A total of fifty boats of this class were built. Six were transported overland to operate in the Black Sea at Constanza to support operation Barbarossa.
---
Posted By: Cookie Monster
Date Posted: January 28 2007 at 2:33am
---
Type VII U Boats

This was one of the most successful U boat designs and the most important class of U boat built. 709 were constructed between 1936 and 1945. It was realised that if the war was to be successfully prosecuted, then the Atlantic would be the battlefield and this boat was designed with that aim in mind. Donitz realised that the the type VII was the boat required to win the war and the forthcoming battle of the Atlantic. When in command of the U boat fleet, he specified this boat. The boat carried four torpedo tubes forward and one aft. An 88mm gun was located on the foredeck with a 20mm gun abaft the conning tower. Speed was 16 or 17 kts on the surface and 8kts submerged.Range was between 6,500 and 10,000 nautical miles depending on type. U 48 was the most successful boat of the war and this sunk 53 ships totalling 304,000 tons under five captains on 12 operational patrols. It was turned over to a training role on 1943, survived the war to be scuttled in 1945.
---
Posted By: Cookie Monster
Date Posted: January 28 2007 at 2:34am
---
The Type IX U Boats

This was the long range boat required by the German Navy for blue water operations and it was based on the type IA with uprated engines, greater speed and endurance with a range of 23,500 nautical miles. Two hundred of these were built at between 1000 and 1,600 tons displacement but only 24 survived the war. The boats were 230 to 280 feet long and 20 - 24 feet beam with 12-17 feet draught. Speed was 20 kts and 8kts submerged. Four bow tubes and two stern tubes were fitted. A 105mm Gun was fitted forward with a 37mm flak gun and one 20mm cannon. The boats were slow to dive and suffered early engine problems leading to emission of white smoke while on the surface, both of which were dangerous ailments. Probably the most successful boat was U123 which carried out 13 war patrols sinking 44 merchant ships totalling 225,100 tons. Decommissioned in 1944 it was taken over by the French who used it until 1959 as the Blaison.
---
Posted By: Cookie Monster
Date Posted: January 28 2007 at 2:35am
---
The Type XB U Boats

The largest boats built by the Kriegsmarine were the XB type and originally designed as minelayers. Eight were built of 2,177 tons displacement and 294 feet long. Some of these craft were converted as cargo carriers to Japan. Speed on the surface was 16 kts and two defensive torpedo tiubes we fitted aft. One 105mm gun was fitted and two 20mm cannon and one 37 mm flak gun. In a resupply and rendevous role they were usually betrayed by radio transmissions and were easy targets on the surface for aircraft due to their slow dive capability.

U 234 set course for Japan from Norway at the end of the war in a resupply role with 10 German and two Japanese passengers. In addition plans and prototypes of the latest weapons under test and development were on board. Also sealed contaimers of uranium oxide. The boat was hunted down with surprising diligence by the US Navy and was eventually captured and taken to Portsmouth New Hampshire. The uranium was quickly removed but the weapons it was to have been used for remain a mystery.

---
---
Posted By: Cookie Monster
Date Posted: January 28 2007 at 2:35am
---
The Type XIV U Boats

These "Milchkuh" U Boats were intended to refuel support and re-supply the rudeltaktik type VII "wolfpacks" in the Atlantic and elsewhere, at long distances from home. They had a large flat deck for carrying out replenishment at sea (RAS) and carried a doctor, spare fuel food and torpedes. They had facilities for baking bread to resupply U boats. Their effectiveness was severely compromised by radio transmissions and continued reliance on Enigma Code for rendevous locations and most were sunk by aircraft while in resupply mode on the surface. Underwater refuelling was perfected too late in the war be effective. Displacement was 1600 to 2000 tons and speed 14 kts. Here one is supplying mail by messenger line, but this was not usually possible in weather above a force four as the low freeboard caused seas to wash over the decks. As a result the flush deck resupply hatch could not be used and instead supplies had to be manhandled up the conning tower. As long range Allied aircraft with radar became effective, daylight surfacing and resupply became hazardous. Refuelling type VII boats could take five hours to complete and became operationally dangerous. Battery charging had to be undertaken at night, but even that was problematic as the Allies gained control of the airspace and RAF Coastal Command gradually closed the Atlantic Airgap. Development of the Leigh Light, Torpex high explosive depth charges, HFDF radio direction finding and short wave radar, all gradually led to an Allied victory in the battle of the Atlantic by May 1943.
---
Posted By: Cookie Monster
Date Posted: January 28 2007 at 2:41am
---
The Type XXI U Boats

These were the "Electroboots" and were probably 10 years ahead of Allied designs. These boats had the ability to end the war in Germany's favour. However, they were rushed into production after too little testing and only low numbers became operational. A modular mass production system was devised, based on construction of a the boat in complete sections with all internal fittings and to accurate tolerances. These were transported by barges and welded together. Each section took eight hours to weld. The process had to be continuous and was not stopped for air raids, or stress of weather.

Surface speed was 16 knots and underwater speed was 17 knots. This was as a result of the streamlined shape (designed by professor Walter) and powerful batteries carried. The boats were 250 feet long with a 21 foot beam and a displacement of 1,600 tons. a formidable torpedo armament was carried in six forward tubes, with a quick reload facility and 23 torpedoes were carried. The pressure hull was constructed of a steel/aluminium alloy 26 mm thick.

War patrols were undertaken by only two of these boats in April 1945 and the pennant numbers were U 2511 and U 3008. In each case, despite detection by surface ships they managed to easily outpace the hunters, carry out dummy attacks and escape at high underwater speeds. Surface ships wrre conditioned to the 3 knot underwater speed of traditional type VII U boats.

U 2511 was sunk by gunfire after the war as part of Operation Deadlight on January the 7th 1946 with no loss of life. It rests in 50 metres of water a few miles off Malin Head.

---
Posted By: Cookie Monster
Date Posted: January 28 2007 at 2:42am
---
The Type XXIII U Boats

These were small craft with a displacement of 275 tons, designed to operate in coastal waters and to replace the type II. A total of 62 were built - the first in 1944. The craft was based on a Walter design and had two non-reload tubes forward and no other armament. Underwater speed was 12 kts and a hydraulic snorkel was incorporated. Surface speed was 9kts. The boats were 113 feet long with a 10 foot beam.

U 2365 was commissioned in 1945 but was scuttled in the Kattegat on May 5th 1945. After the war it was raised by the Bundesmarine and refitted and relaunched in 1956. It sank with loss of 19 men in 1966 due to an accident.
---
Posted By: Cookie Monster
Date Posted: January 28 2007 at 2:42am
---
Concrete U Boat Pens

A catch 22 situation began to arise in the Atlantic. Only the successful U Boats made contact with convoys and they stood a high chance of being sunk themselves, as soon as a torpedo attacks commenced and as allied ASW tecqniques improved. The original "happy time " was over and the U Boat losses began to mount as Allied detection became better. Only on the American east coast did the pickings continue due the lack of rigid convoy systems which the Americans, due to lack of experience, felt was not required. Substantial concrete U Boat Pens were constructed in Norway and France as the land war progressed. These gave the German Navy access to Atlantic ports, to evade the blockage created by the Royal Navy in the Channel. These pens were designed to be inpregnable from the air and were effective until the last year of the war, when Prof Barnes Wallis developed "Earthquake" and "Tall Boy" bombs and as precision bombing was developed and high payloads could be carried. The main locations were Lorient, St Nazaire, Brest, Bordeaux and Trondheim.
---
Posted By: Cookie Monster
Date Posted: January 28 2007 at 2:43am
---
U 48 Leaving Pens for an Atlantic Patrol

Destruction of the pens in Brest by Tallboy and Blockbuster precision delivered bombs, could only be achieved by wholesale destruction of the town. Modern Brest is a conrete replacement of the original.

The Royal Navy paid a goodwill visit to the town of Brest directly after the war. The town had been systematically destroyed by day and night bombing, to prevent use of the U Boat Pens in the harbour and to increase the ability of the Allies to win the Battle of the Atlantic. Eyewitness accounts reveal that the residents were not happy to see the The Royal Navy at that time, as the city still lay in ruins as a result of repeated Allied attacks. Precision bombing with "Tall Boy" 10,000 lb bombs had penetrated 20 feet of concrete to destroy both the pens and the U Boats within.

The gaping holes are still visible today in the roof of this massive structure. In May 1999 Brest hosted the 36th International Submarine Convention, which was attended by 500 Allied and Axis Submariners, who meet annually to remember the those who have crossed the bar. As the old Pathe Newsreels were shown inside the disused U Boat Pens, German Italian French and British submariners stood side by side, recalling individual memories

---
Posted By: Cookie Monster
Date Posted: January 28 2007 at 2:44am
---
The Schnorchel


The U boats, like their counterparts elsewhere in the world at that time, were not true submarines but only submersibles. Underwater speed and endurance was slow and short due to battery restrictions. As a result, Allied convoys could escape even at their slow seven knot speeds, if U Boats could be forced to submerge by destroyets and aircraft. In order to combat this disadvantage, the schnorchel mast was developed to allow diesel engines to run while the boat was submerged. This reduced detection by radar and allowed battery charging day and night while underway at speed. Special "Tarnmatte" coatings of rubber and iron oxide were used to counter the effect of Allied radar. However, masts could still be detected by radar at about three miles in calm conditions. Also, the exhaust smoke from worn or damaged engines was a tell tale sign in clear weather, during daylight.


Details surrounding losses of a boat such as this were not usually radioed to B-Deinst, due to suddeness of Allied attacks. As a result, there was general scepticsm that the boat had been lost as a result of the failure of the new fangled "schnorchel". However, as relentless pressure of Allied air attacks continued, boats needed to remain underwater as long as possible and the requirement for the snort mast was finally accepted and proven.
---
Posted By: Cookie Monster
Date Posted: January 28 2007 at 2:48am
---
The first operational boat to be fitted with a "snort mast " was U 264. This was a Type VIIC built by Bremer Vulkan and commissioned on May 22 1942. It was sunk on its first operational voyage in the Atlantic by scuttling charges, after an attack by warships of the Royal Navy 2nd Escort Group. All the crew survived and a reunion photograph is attached, taken in 1995. One of the crew of U 264, the late Hans Ronnpage, (shown top left) was rescued by a Royal Navy destroyer. However this was torpedoed by another U boat, Hans was rescued a again by the Royal Navy and was taken back to England. He settled in Wales after the war and attended many Submarine (SOCA) reunions. When recounting the story he described this as "Hans avays in der vorter - in der vorter again!"
---
Posted By: Cookie Monster
Date Posted: January 28 2007 at 2:49am
---
The Type VII U Boat

A type VIIC submarine displacing 769 tons 220 feet long with a 20 foot beam and a draught of 16 feet. She was powered by two MAN diesels with a power output of 2800 hp and had a range of 6000 nautical miles at a speed of about 12 knots. Her safety limit for diving was 440 feet and she had a fuel capacity of 110 tons. Armament was four 20mm AA guns on the "bandstand" abaft the conning tower and she was also fitted with a 37mm AA gun. The boat's crest was painted on the side of the conning tower and this consisted of a black panther with the world globe as as a backdrop. All hatches were circular for strength rather than the traditional RN ellipsoid. There was no brass or other polished metal aboard.
The boat was uncommon in that it was named rather than referred to as a number, but German crews, like American bomber crews, enjoyed creating an image and a name for their respective craft. The hull of this boat had a black rubber coating to reduce the effect of asdic impulses and this may be where the name originated.
This boat was extensively evaluated by the Royal Navy at the end of the war. The German Navy U boat archives at Cuxhaven established links with the Submarine Old Comrades Association (SOCA) branch at Gatwick after the war and sought to create a record of all the British crews who had sailed in the boat after the war. U 1105 went to the United States in 1946 and is now reported lying on the bed of the Potomac river off Piney Point in Maryland USA. The boat is a recreational diving attraction.
---
Posted By: Cookie Monster
Date Posted: January 28 2007 at 2:50am
---
U Boat 2326

U 2326 sailed into Dundee, Scotland at 0930 hrs on the 14th May 1945, wearing a black flag over the German Ensign. Approximately 1000 dockworkers and others gathered on the quayside to watch her sail in. She was one of the latest type of U Boat with a length of 100 feet and displacing 250 tons of the type XXIII. The skipper was Captain Jobst. His radio had broken down while on patrol in the North Sea and he had not been aware the war was over. He was signalled by a Liberator bomber but did not have charts of the minefields outside English harbours and made course for Keil on the surface. A second Liberator dropped a bomb nearby and requested a change of course for England and he was directed to Dundee.
Of the crew of fifteen, two had the Iron Cross and a Dutch naval officer based in the port acted as interpreter. The boat was evaluated by the Royal Navy and was transferred to the French in 1947. Unfortunately, this boat sank off Toulon while on delivery, the sinking report refers to "a welding defect." A second report indicates that the boat went down with all hands (French) in the Bay of Biscay in 1947.
---
Posted By: Cookie Monster
Date Posted: January 28 2007 at 2:51am
---
The Battle of the Atlantic

The Kriegsmarine needed to vector the wolfpacks onto the convoys. To do this they needed to detect their course and speed. Focke-Wolfe 200 Kondor long range aircraft were developed for this role. Their potential was never fully realised and when used briefly as a bomber in the Atlantic, they sunk 30 Allied ships in two months.

To counter the U Boat threat, the Allies developed use of long range aircraft, the Leigh Light, acoustic air launched torpedoes, efficient radar and shallow set depth charges, filled with a more effective Torpex high explosive. U Boats could now be detected in the dark, out in the Atlantic, on the surface. U Boats retaliated with installation of four barreled quick firing anti aircraft guns on the "bandstand" abaft the conning tower, to down incoming aircraft. Also, they developed use of the "Biscay Cross" DF system, made of wires set on a crucifix wooden frame, to detect incoming aircraft at night, by picking up radar emissions. A change of radar frequency by the Allies denied them this advantage.


Finally, development of a modern streamlined hull shape, adoption of modern cruciform control surfaces at the stern only and high speed propulsion as a result of the "Walther System" of volatile HTP peroxide fuel, led to developments that were at least ten years ahead of the Allied boats. These were true submarines that could remain submerged for long periods at high speed when required. Introduction of these boats could have changed the course of the war, but the end of hostilities prevented their effective use.
---
Posted By: Cookie Monster
Date Posted: January 28 2007 at 2:51am
---
U Boat 1407 -
This was a Type XVIIb powered by an experimental Walter peroxide engine with a top speed of 25 knots. THis was not a fleet speed and could only be used for a short period to escape detection and capture. Despite this limitation, the boat was a staggering advance on Allied designs and capabilities - and was ten years ahead of the Allied designs and performance.
This boat was recovered from the sea by the Royal Navy off Cuxhaven, where it had been scuttled. The Boat was refitted with the help of Dr Walter, at Vickers yard in Barrow in Furness Lancashire UK. The boat underwent trials between 1947 and 1949 achieving high speeds. It was regarded with great interest by the Royal Navy due to the high speed propulsion system, which was seem as a low cost alternative to nuclear propulsion.
Jack (Royal Navy Ratings) did not regard it in the same light and gave it a reputation as a dangerous and volatile piece of machinery - which it was. Control was difficult due to lack of forward hydroplanes and the aircraft type controls. Some of the advantages of this boat were incorporated into the "S" type RN boats in later years. U 1407 was scrapped in 1949.
---
Posted By: Cookie Monster
Date Posted: January 28 2007 at 2:55am
---
U Boats - The Aces and The Tally

The losses suffered by the U Boat service were high and of 1158 Boats in service, 637 were lost and of those, 420 were lost in the Atlantic. There were 40,000 men who served in U Boats during the war and 20,000 of those did not return. Some 2000 Allied ships were sunk by U Boats, which probably equates to some 20,000,000 gross registered tonnage. On the other side, 20,000 allied merchant seaman lost their lives and 6,000 aircrew of Allied Coastal Command also.

---
Posted By: Cookie Monster
Date Posted: January 28 2007 at 2:57am
---
Gunther Prien

The best known of all U Boat captains was Gunther Prien. He carried out ten patrols and was sunk in U 47, but not before he had sunk 28 allied ships of 160,000 grt. He was feted a hero in Germany after the daring raid on Scapa Flow in the early months of WWII and the sinking of the RN Battleship HMS Royal Oak. Other famous German Navy aces included Joachim Sckepke, W Henke, Hans Trojer, Johann Mohr, Gunther Hessler, Otto Kretschmer, Erich Topp and Wolfgang Luth. The cost of success in sinking Allied ships became higher and higher as Allied ASW systems, enigma codebreaking, HuffDuff, radar and radio intercepts became more and more effective. Otto Kretschmer was one of the aces who survived the war - to head the German peacetime NATO navy after 1945.

---
Posted By: Cookie Monster
Date Posted: January 28 2007 at 3:06am
---

Catalina On A Bombing Run

---
Posted By: Cookie Monster
Date Posted: January 28 2007 at 3:10am
---
---
Posted By: Cookie Monster
Date Posted: January 28 2007 at 3:11am
---
---
Posted By: Cookie Monster
Date Posted: January 28 2007 at 6:51am
---
Overall view of the Bremerhaven harbour area where Wilhelm Bauer is displayed. Looking from the distance against the backdrop of a large office complex, the U-2540 looks small. This is deceptive - she ranks as the largest submarine in service with the post-war German Navy.
---
Posted By: Cookie Monster
Date Posted: January 28 2007 at 6:53am
---
Here she is in all her glory. Type XII introduced streamlining in U-Boat design, resulting in a quantum leap in underwater performance. All submarines before this one were basically designed to submerge and stay under the surface in one place (sans minor pedestrian manoeuvres using electric power). Type XXI could easily steam in circles around any Allied convoy - all under water.
---
Posted By: Cookie Monster
Date Posted: January 28 2007 at 6:54am
---
---
Posted By: Cookie Monster
Date Posted: January 28 2007 at 6:54am
---
---
Posted By: Cookie Monster
Date Posted: January 28 2007 at 6:55am
---
---
Posted By: Cookie Monster
Date Posted: January 28 2007 at 6:58am
---
---
Posted By: Cookie Monster
Date Posted: January 28 2007 at 7:00am
---
---
Posted By: Cookie Monster
Date Posted: January 28 2007 at 7:01am
---
---
Posted By: Cookie Monster
Date Posted: January 28 2007 at 7:01am
---
---
Posted By: Cookie Monster
Date Posted: January 28 2007 at 7:02am
---
---
Posted By: Cookie Monster
Date Posted: January 28 2007 at 7:06am
---
---
Posted By: Cookie Monster
Date Posted: January 28 2007 at 7:07am
---
---
Posted By: Cookie Monster
Date Posted: January 28 2007 at 7:09am
---
---
Posted By: Cookie Monster
Date Posted: January 28 2007 at 7:10am
---
---
Posted By: Cookie Monster
Date Posted: January 28 2007 at 7:11am
---
---
Posted By: Cookie Monster
Date Posted: January 28 2007 at 7:24am
---
---
Posted By: Cookie Monster
Date Posted: January 28 2007 at 7:25am
---
---
Posted By: Cookie Monster
Date Posted: January 28 2007 at 7:29am
---
---
Posted By: Cookie Monster
Date Posted: January 28 2007 at 7:33am
---
http://imageshack.us/?x=my6&myref=http://www.subsim.com/radioroom/showthread.php?t=89734&page=2">
---
Posted By: Cookie Monster
Date Posted: January 28 2007 at 7:34am
---
---
Posted By: Cookie Monster
Date Posted: January 28 2007 at 7:35am
---
---
Posted By: Cookie Monster
Date Posted: January 28 2007 at 7:38am
---
Gerd Schaar
Kapitänleutnant (Crew 37b)
Successes
2 ships sunk for a total of 7.564 GRT
2 warships sunk for a total of 604 tons
Born
5 Mar, 1919
Berlin
Died
24 Jan, 1983
Maseru / Lesotho (South Africa)
U-Boot Archiv

Gerhard Schaar
http://uboat.net/men/ranks/ - Ranks
28 Jun, 1938
Seekadett
1 Apr, 1939
Fähnrich zur See
1 Mar, 1940
Oberfähnrich zur See
1 May, 1940
Leutnant zur See
1 Apr, 1942
Oberleutnant zur See
1 Jan, 1945
Kapitänleutnant
http://uboat.net/men/decorations/ - Decorations
15 May, 1940
Iron Cross 2nd Class
14 Feb, 1944
German Cross
1 Oct, 1944
Knights Cross
U-boat Commands
U-957
1 Apr, 1943
-
21 Oct, 1944
6 patrols (141 days)
U-2551
20 Apr, 1945
-
5 May, 1945
No war patrols


Gerhard Schaar began his naval career in October 1937. He served on the destroyer Erich Giese, which was sunk during the occupation of Norway in April 1940. After some months on shore in Narvik, he served as training officer in the Marineschule Mürwik (Naval Academy) before transferring in February 1942 to the U-boat force.

After two patrols on http://uboat.net/boats/u704.htm - U-704, in April 1943 he took command of the Type VIIC boat http://uboat.net/boats/u957.htm - U-957, which was attached to the 11th Flotilla and was in action in the Arctic Sea. Schaar won his Knights Cross for leading the landing operation on the Soviet island Sterligova, where a radio station was destroyed in September 1944.

In April 1945 Schaar commissioned the Type XXI U-boat http://uboat.net/boats/u2551.htm - U-2551, which was scuttled one month later.

---
Posted By: Cookie Monster
Date Posted: January 28 2007 at 7:41am
---
Adalbert Schnee
Korvettenkapitän (Crew 34)
Successes
21 ships sunk for a total of 90.847 GRT
2 auxiliary warships sunk for a total of 5.700 GRT
3 ships damaged for a total of 28.820 GRT
Born
31 Dec, 1913
Berlin
Died
4 Nov, 1982
Hamburg
U-Boot Archiv

Kapitänleutnant Adalbert Schnee
http://www.uboat.net/men/ranks/ - Ranks
26 Sep, 1934
Seekadett
1 Jul, 1935
Fähnrich zur See
1 Jan, 1937
Oberfähnrich zur See
1 Apr, 1937
Leutnant zur See
1 Apr, 1939
Oberleutnant zur See
1 Mar, 1942
Kapitänleutnant
1 Dec, 1944
Korvettenkapitän
http://www.uboat.net/men/decorations/ - Decorations
21 Oct, 1939
Iron Cross 2nd Class
27 Nov, 1939
U-boat War Badge
15 Aug, 1940
Iron Cross 1st Class
30 Aug, 1941
Knights Cross
15 Jul, 1942
Knights Cross with Oak Leaves
U-boat Commands
U-6
31 Jan, 1940
-
10 Jul, 1940
1 patrol (15 days)
U-60
19 Jul, 1940
-
5 Nov, 1940
3 patrols (38 days)
U-121
6 Nov, 1940
-
27 Nov, 1940
No war patrols
U-201
25 Jan, 1941
-
24 Aug, 1942
7 patrols (235 days)
U-2511
29 Sep, 1944
-
8 May, 1945
1 patrol (3 days)

'Adi' Schnee on board

Adalbert Schnee joined the Navy in April 1934. After some months on the light cruiser Leipzig, he began his U-boat career in May 1937.

He spent two pre-war years on board http://www.uboat.net/boats/u23.htm - U-23 under the command of Oberleutnant zur See Otto Kretschmer. There he completed his first five patrols before going on to win great success with his own boat, http://www.uboat.net/boats/u201.htm - U-201. On his seventh patrol he sank ships for a total of 41,036 tons, and for this achievement was awarded the Oak Leaves to his Knights Cross.

In October 1942 he joined the BdU staff. In his position as the "Geleitzugs-Asto" (A I op), he planned and organized operations against the enemy convoys.



Returning from his 'Oak Leaves' patrol 'Adi' Schnee in the conning tower
Of course he wears the snowman as well as a Knights Cross. (Schnee is the German word for snow.)
In September 1944 he took over the command of the new "Elektro-boot" http://www.uboat.net/boats/u2511.htm - U-2511, the first and only Type XXI boat to go on patrol*. On this patrol in the last days of the war, in the hours immediately after the cease-fire orders on 4 May, 1945, Korvettenkapitän Schnee had an excellent opportunity to sink the British cruiser HMS Norfolk. Simulating an actual attack, he approached the vessel, evaded the destroyer screen, closed to point-blank range, and then simply left the area.

Adalbert Schnee
---
Posted By: Cookie Monster
Date Posted: January 28 2007 at 12:58pm
---
U-Boot Type XXI in Detail

n Text by http://ipmsstockholm.org/info_team.htm - Frank Spahr
n Photos by http://ipmsstockholm.org/info_team.htm - Frank Spahr
---
The
B

oat

T

hat

C

hanged

the S

ubmarine

W

arfare

In the spring of 1943, Germany was clearly losing the battle of the Atlantic. Improvements in Allied escort material and tactics, combined with cracking the German military code dramatically increased the U-Boats´ losses, rendering them near useless. The German high command saw its best reaction in the speedy development of improved submarines. These were meant to overcome the shortcomings of the current types VII and IX, especially their low speed and little underwater endurance. A future submarine would have to be fast, silent and able to operate submerged for any given time to evade enemy aircraft.

In the long run, the Germans saw their biggest potential in a propulsion independent from surface air, made possible by the Walter turbine (we aircraft modellers know Mr. Walter for his RATO pods used to bolster the thrust of German aircraft on take-off). It utilised Hydrogen peroxide as fuel; this system would give the boat a hitherto impossible underwater speed of more than 20 knots, yet only limited range.

Two submarine hulls were in the developing stage that would make use of the system. The larger one, the Type XVIII, was designed for long-range operations. It combined a diesel-electric powerplant for long-range duty (getting into the operations area and back) with a Walter turbine (for underwater attack use only). Thus, the hull grew rather large, yet was designed with a streamlined perfection hitherto unknown. The smaller craft, the Type XXII, would be used near the shore and was much smaller.

The project was delayed by the complicated and largely untested power plant: It was felt that it would take several years for it to achieve sufficient reliability for combat use. Moreover, the current production of Hydrogen peroxide was much too small for the projected needs of a large submarine fleet; so adequate capacities would have to be built up beforehand.
The
A

dvent of the Elektroboot

In this situation in the spring of 1943, with dozens of boats lost to Allied forces, as an interim solution it was decided to mate the hulls of the projected Walter boats with conventional powerplants, although with three times the battery capacity than hitherto. This were the types XXI and XXIII which should help turn the tide of the war. Until their deployment, the current types, successively equipped with snorkels, had to soldier on despite staggering losses and somehow bind Allied forces.

The Type XXI was a bigger boat than the Type VII; it was well designed and resembled in no way a stopgap construction. The new boat's hull was designed for high underwater speeds; its shape reflected a change in design: All earlier submarines had essentially been surface vessels that submerged for short spells - this would be a real submarine for the first time. The streamlined shape of the hull and the conning tower produced less noise and made detection by acoustics harder. Moreover, the engines´ efficiency was nearly doubled, giving the Type XXI a top submerged speed of nearly 18 knots for short periods of time.

The vessel's detectability by Sonar or ASDIC could not be altogether eliminated, but in the event it turned out that the new boats were much harder to detect than their predecessors on account of their optimised shape and silent engines. They were also able to sail much faster in silent mode than hitherto.

Six bow torpedo tubes were installed, none at the stern. The boat carried ample spare torpedoes - sufficient for two rechargings in a very short time (20 minutes). Only two twin 20 mm AA guns were mounted in streamlined fairings on the sail, otherwise the boat carried no guns. The sail in its final configuration had only a very small open "bridge", rather hatches only, a total change in design in comparison with the earlier types. It just was not meant to sail on the surface any more. A snorkel system allowed for virtually unlimited operations below the surface, recharging batteries and sailing submerged under diesel power.

An improved passive and active sonar system, called Gruppenhorchgerät and Unterwasser-Ortungsgerät NIBELUNG respectively, enabled detection and attack of enemy shipping without optical contact - another revolutionary feature introduced with the type. Theoretically, the bow-mounted passive sonar would detect enemy shipping and enable the boat to close in near enough for the use of the active sonar. Only a few of its impulses should suffice to compute the distance, speed and bearing of the target with more than sufficient precision for use with the improved LUT-torpedoes. LUT, standing for Lageunabhängiger Torpedo was a new type of guided torpedo to be fired regardless of the target's bearing that would steer an interception course programmed by the torpedo computer. The probability of hits on targets longer than 60 meters was calculated at 95 %.

Crew facilities - though still spartan - were better compared to earlier types. Most crew members had their own bunks (51 for 58 hands); the boat was air-conditioned and equipped with freezers for supplies, thus markedly improving the crew's situation. There were three toilets and a fresh water distiller that increased personal hygiene and crew comfort vastly.
Production and
O

perations

This design was completed and executed under conditions typical for the second half of the war - the Allied strategic bombing campaign. To evade it, the construction office was housed in a remote location in the Hartz mountains; the boats were built decentralized in modules, which were ferried by barge to a main site only towards the end of construction. Here they were assembled to complete hulls, reducing the period of vulnerability towards air attacks in the shipyard. This system was of course vulnerable, too: Raids on a certain manufacturer could halt progress on all three yards that did the final assembly.

Total construction time compared to former methods was reduced from 22 months to only 9, and that was all that counted in the given situation.

In the end, the overly optimistic schedules weren't met due to the deteriorating war situation and the teething troubles inevitable in such a complex design; but a full 119 Type XXI were completed and delivered in less than a year (28 June 1944 until May 1945).

Only a single Type XXI boat was operationally deployed towards the end of the war. It did not fire a single shot in anger, yet the few encounters made by U 2511 on its raid from Norway between 30 April and 4 May, 1945 showed the Allies´ inability to track the boat with their equipment.

22 Type XXIs were destroyed by the Allies in the yards, 84 were scuttled by their crews following Admiral Doenitz's orders from May 4th, 1945. However, 12 vessels fell into Allied hands intact and gave valuable impulses towards post-war submarine development, both on the eastern and the western side. Major post-war submarine constructions in the Soviet Union, the UK, France and the USA were visibly influenced by the Type XXI.
Enter the Wilhelm Bauer
This particular boat was built as U 2540, launched on 13 January, 1945, commissioned on 24 February, 1945, and scuttled on 4 May 1945. It rested on the bottom of the sea for more than a decade until the German rearmament brought the founding of the German Bundesmarine (Federal Navy) and new submarines were needed.
With the locally defensive tasks given to the Germans within NATO, Germany needed an altogether new and comparatively small type of coastal submarines. These would have to be very heavily armed, hard to detect and as survivable as possible. Quite a number of entirely new subsystems had to be developed and tested for these boats, a huge task to be accomplished at a tight schedule under cold war conditions.
It was felt that training and test bed submarines was needed and that scuttled Kriegsmarine submarines would provide a good solution, especially one more economical in acquisition than other alternatives. So after sifting through Kriegsmarine records, two small Type XXIII submarines for training purposes and later on the large Type XXI U 2540 as test bed were selected. They were salvaged, refitted and used in various configurations by the Bundesmarine. U 2540 was christened "Wilhelm Bauer" after the German engineer who built the first real submarine in 1849, the Brandtaucher. It was commissioned in 1960. The two smaller submarines were called "Hai" and "Hecht" (shark and pike). These three and the large U-freighters of WW 1 ("Deutschland" and "Bremen") are the only German submarines with names instead of numbers I know of.
New subsystems such as engines, snorkel, compressors, mines, anchors, rescue devices, steering systems, torpedoes, acoustic detection devices, a redesigned sail, decoys and much more were tested aboard "Wilhelm Bauer"; later they were operationally deployed in the new types such as 205, 206 and 209. The tests significantly shortened development time and reduced teething troubles.
"Wilhelm Bauer" was turned over to a civilian crew in 1970 and conducted further tests, also participating in manoeuvres as a target ship. But finally, fatigue and damage sustained in several collisions rendered her unsafe, and it was decided to end her career in 1982.
"Wilhelm Bauer" had been very popular with her crews; her ship's arms was a white elephant snorkelling with its trunk - she had been the largest submarine used in post-war Germany. A group of enthusiasts assembled to save her from the scrapper's torch, and the non-profit association Technikmuseum Wilhelm Bauer was founded.
The
W

alkaround

The boat was decommissioned and rebuilt as far as possible to resemble her wartime appearance. In 1984, she was moored permanently in the museum dock at Bremerhaven next to Germany's Maritime museum and its museum ships. So you have to pay extra to visit her after your visit to this also very interesting museum, but it's worth it and you're supporting the association with your fee.

Of course, the boat is not what it was when built; much has been dismantled and changed when she was converted to a test bed, and some of those latter additions have remained; but you do get a feeling of how it was like living aboard such a vessel.

When we toured the boat, we were inside for about half an hour, with about ten people; I personally would not like living aboard her for weeks together with 58 men, least of all going to war with it. As many times before, it intrigued me to what ends people go to design and build ever more elaborate devices to kill others. My girlfriend's 13-year-old son remarked about the difference between the boat's simplistic and sleek external appearance and the overly complicated interior, with its myriads of valves, levers, switchboxes and pieces of machinery squashed everywhere.

I've toured the very realistic replica of a Type VII boat interior built for the movie Das Boot in Munich, and I've visited the Danish submarine at Aalborg Naval Museum. The Type XXI looked the most spacious of those three to me, yet still more cramped than I would like. Small things roused my imagination: The boxes of lime used to decrease the CO2-content in an emergency, the flashlights mounted everywhere to give the crew light in case of an engine failure. Claustrophobic Scenes from Das Boot rose to my mind, and I was glad to step out into the open.
---
Posted By: Cookie Monster
Date Posted: January 28 2007 at 1:02pm
---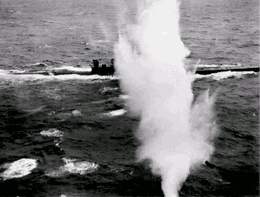 A U-boat under aircraft attack. Note the falling depth charge on lower right of the photo.
---
Posted By: Cookie Monster
Date Posted: January 28 2007 at 1:03pm
---
Battle of the Atlantic
The End for the U-Boats
The end drew steadily near for the U-boats. Everywhere that Donitz looked, his U-boat war was foundering. The Allies kept adding new escorts, developed new weapons and perfected the convoy system which easily defeated the wolf packs. Allied shipbuilding capacity continued at a rapid pace, and by this time it had become almost impossible for U-boats to keep up with the tonnage race.
Beginning June 1943, the U-boat force took another blow. In that month, the British Admiralty changed naval codes, and the German code breaking service, B-Dienst, which had been reading much of Allied traffic since February 1942 could no longer provide decrypts of Allied messages. This incalculable setback meant that BdU was deprived of valuable tactical information. Up to the end of the war, the Germans were not able to break the new Allied naval code. This seesaw battle of code breaking also saw the Allies decidedly triumphant when Bletchley Park penetrated the four wheel Enigma during the same month. The German situation at the Atlantic was open to Allied observers and the position of every U-boat was closely tracked on a daily basis.
The Allies were clearly winning the war and were becoming bolder in their approach. From intercepted communications, the Americans launched an offensive against the German U-tankers, which were still strategically scattered throughout the Atlantic. In that summer of 1943, American hunter-killer groups consisting of escort carriers and destroyers systematically located and destroyed the U-tankers, virtually eliminating them from the Atlantic. The destruction of the tankers was a strategic step forward. U-boats could no longer reach distant shores, and with the threat of these areas now neutralized, the Allies were free to concentrate their resources on areas still within range of the U-boats. The British were cautious that the sudden demise of the U-tankers would alert the Germans of their new found ability to intercept Enigma messages. Nevertheless, Donitz failed to realize that their communications had been compromised.
---
Posted By: Cookie Monster
Date Posted: January 28 2007 at 1:03pm
---
The German response was threefold - the development of new weapons, new devices and a new submarine design. In the field of weaponry, a new acoustic homing torpedo was introduced. The T5 or Zaunkonig was a specialized anti-escort torpedo which would home in on the propeller noise of surface ships. The later improved version (Zaunkonig II) could be fired from up to a depth of 50 meters. To defeat Allied aircraft, Flak U-boats were introduced in May 1943 and anti-aircraft armament on existing attack boats were upgraded. However, even with the improved anti-aircraft weaponry, U-boats were still very vulnerable to air-attack.
New devices were introduced to combat the effectiveness of Allied equipment. Radar decoys, such as the "Aphrodite" and "Thetis" fooled Allied radar into thinking that a U-boat was present. This consisted of several strips of aluminum foil attached to a line or wooden pole that hovered just above the water. It was kept in place either by a float or balloon. The idea was to send Allied pilots on wild-goose chases and for U-boats to show up all over the Atlantic on Allied radar. Sonar decoys such a "BOLD" also entered service which would fool enemy sonar about the presence of an underwater U-boat. A new radar detector was developed to complement the now ineffective Metox. The NAXOS was more accurately tuned to Allied radar and could reliably detect radar signals up to five kilometers away. But the scientists' main accomplishment was in the introduction of the Snorkel device. Originally developed by the Ducth Navy, this device allowed a submerged U-boat to draw in outside air via a tube which extended above the water. A U-boat could now run its powerful diesel engines or recharge its batteries while remaining safely submerged. However the snorkel was more of a defensive device and did nothing to contribute to a boat's attack ability.
Finally, the greatest effort was in the development of a true submarine, instead of the mere submersibles of the U-boats. What Donitz desperately wanted was a vessel that could travel rapidly underwater, stay there for weeks and attack while submerged. Since the summer of 1942, German scientists had been researching on a new air-independent propulsion system, dubbed the Walter System. However, this propulsion system used hydrogen peroxide, a highly volatile material and a complex system of drives which might take years to perfect. The Walter system was not approved for construction, but from that project, a new development on an advanced prototype which would represent a new stage of submarine design was born.
---
Posted By: Cookie Monster
Date Posted: January 28 2007 at 1:04pm
---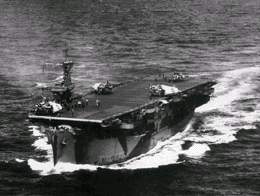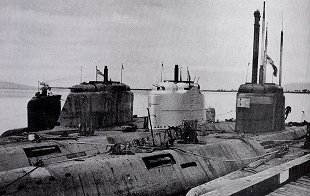 A US Bogue-class escort carrier. These support groups played a vital role in defeating the U-boat threat.
The revolutionary Elektroboat was Germany's gamble to restore the balance. It was capable of 26 knots underwater speed.
Dubbed the "Elektroboat", this would soon become the world's first true submarine, capable of revolutionary underwater speeds, very long underwater endurance and the capability to attack completely blind while submerged. This suited Donitz's requirements well and so promising were these designs that construction for all older types were cancelled, except for those already under construction and for a handful of others for specific purposes. All resources were to be given over to the production of the Type XXI and its smaller cousin, the Type XXIII. Concurrently, new prefabrication methods cut construction time almost in half, but even at that, no Elektroboat was expected to be ready for almost another year.
The reality was, Germany did not have another year. By June 1944, the Allies invaded France and forced U-boats stationed there to flee their French bases. Constant bombing raids on German dockyards disrupted power, railway lines and halted constructions. Many Elektroboats were sunk in harbor, some already completed and outgoing fitting out and some while undergoing training. Only two Type XXIs and eight Type XXIIIs had entered service. Given their limited deployment, these new revolutionary boats were quite successful and would have caused the Allies much problems. But there were never enough of these around to cause any real difference to the war.
In September 1943, Donitz renewed his attacks in the North Atlantic. Armed with new weapons, new devices and high expectations, the wolf packs commenced their attack against Allied convoys, but the entire effort collapsed under the sheer numbers of Allied escorts and aircraft. By the end of the 1943, more U-boats were being lost than Allied ships and through to spring of 1944, very few convoys were intercepted and none successfully attacked. Only once more, in the following of March, would U-boats sink more than 100,000 tons of shipping. The liberation of France forced U-boats to retreat to bases in Norway or the German North Sea coast, further shrinking their operational reach. As further testament, between June and August 1944, U-boats deployed against the Normandy invasion sank five escorts, twelve merchant ships and twelve landing craft, while losing twenty boats of their own. From then on, the situation for the U-boats was hopeless.
There was nothing the U-boats could do to save Germany. From the east, the Soviets marched on, while British and American troops closed from the west. On May 4th 1945 at 3.14pm, Donitz broadcasted his final message, "You have fought like lions. Unbeaten and unblemished, you lay down your arms after a heroic battle without equal".
The surviving U-boats were ordered to cease hostilities and to sail to the nearest Allied harbor, flying a black flag for surrender. Instead of surrender, seven sailed to neutral ports, and 221 scuttled their craft.
Of the 1,155 U-boats Germany sent into combat, 725 had been sunk in the longest battle of the war. Lasting nearly six years, over 35,000 German sailors had put to sea, with 28,744 never returning – a death rate of 82 percent, the highest casualty rate of any armed forces of any conflict in the history of modern war. Yet in this appalling casualty rate, there was never any shortage of men to enlist in the U-boat service, and until the very last day, the men of the U-boat service stood ready to put to sea at a moments notice.
---
Posted By: Cookie Monster
Date Posted: January 28 2007 at 1:06pm
---
World War I and World War II Torpedoes
German Torpedos manufactured prior to the end of World War II were designated as to their diameter, length and propulsion. Modifications were usually, but not always, denoted by T numbers. Standard designations were as follows:
Diameter: F = 45 cm, G = 50 or 53.3 cm, H = 60 cm, J = 70 cm and M = 75 cm
Length: To the nearest meter
Propulsion: a = air/steam (Wet Heater), e = electric, u = hydrogen peroxide
For example, the designation G7e T2 meant that the torpedo was 53.3 cm (21") in diameter, was about 7 meters long, had an electric motor and was the second modification to the original design.
The outfit for U-Boats was at least four electric torpedoes for every wet-heater while surface ships used only wet-heaters. Schnellbootes (E-boats) used primarily wet-heaters, although electrics were also issued.
Italian torpedoes used by the Germans were denoted by the manufacturer, w for Whitehead (Fiume) and i for Silurificio Italiano (Naples).
During World War II, over sixty different torpedo designs were tested, 16 using hydrogen peroxide as an oxidant. Monthly production rose from 70 before the war to 1,000 by the spring of 1941, to a peak of 1,700 in 1943 and then fell to 1,400 during 1944. Total production of 53.3 cm (21") torpedoes was about 70,000. However, not counting those expended for testing, destroyed in bombed depots or lost in sunken ships, wartime expenditures were just over 10,000 of which about 7,000 were electric G7e, 2,300 wet-heater G7a and 640 electric acoustic homing T5 (Zaunkönig 1). Manufacturing took place at Deutsche Weke Kiel, Julius Pintsche Berlin, Auto-Union Zwickau, Borgward Bremen and Planeta Dresden.

Post-World War II Torpedoes
German torpedoes are named after sea animals.
---
Posted By: Cookie Monster
Date Posted: January 28 2007 at 1:27pm
---
World War I Torpedoes
Most German torpedoes designed before 1906 used three-cylinder radial engines based upon the Brotherhood system, which used compressed air as a power source. Later versions used a Brotherhood four-cylinder central crank engine which had increased power.
After 1906, German designs used wet-heater motors. These pre-heated the air being fed into the engine, significantly increasing the range of the torpedo.
World War II Torpedoes
During World War II, submarines generally carried electric motor torpedoes, as these made little noise and were essentially wakeless. Surface ships did not use these as it was felt that the shock of the torpedo hitting the water would rupture the batteries. Instead, surface ships used wet-heater engines notable for using Decalin (decahydronaphthalene) instead of kerosene for fuel. Much research was performed upon hydrogen peroxide fuels during World War II, but no torpedo using this fuel ever entered service.
Post-World War II Torpedoes
Post-war designs rely upon silver-zinc batteries for power.
---
Posted By: Cookie Monster
Date Posted: January 28 2007 at 1:27pm
---
World War I Torpedoes
The standard explosive charge was 60% TNT and 40% hexanitrodiphenylamine in blocks. This had first been developed by the Germans in 1907 and was very resistant to shock. This explosive was about 7% more powerful than 100% TNT.
World War II Torpedoes
SW18: 50% TNT, 24% HND, 15% Aluminum
SW36: 67% TNT, 8% HND, 25% Aluminum
SW39: 45% TNT, 5% HND, 30% Amonium Nitrate, 20% Aluminum
SW39a: 50% TNT, 10% HND, 5% Amonium Nitrate, 35 % Aluminum
HND = Hexanitrodiphenylamine.
---
Posted By: Cookie Monster
Date Posted: January 28 2007 at 1:28pm
---
World War II Torpedoes
The failure of the German Magnetic Pistol and backup striker gear is well known. The Magnetic Pistol was withdrawn in 1940 and did not reappear until 1943. However, Italian aerial torpedoes with a different kind of magnetic pistol were used by the Germans throughout the war. The best of the German Magnetic Pistols was the TZ5 used in the T5 torpedo. It was basically a metal detector with two coils. An improved model TZ6 could be fitted to any 21" (53.3 cm) torpedo but was only approved for use as the war ended.
Most torpedoes used whisker-type impact pistols, but these could not be used on homing torpedoes. Instead, homing torpedoes used an inertial pistol located at the rear of the warhead.
---
Posted By: Cookie Monster
Date Posted: January 28 2007 at 1:29pm
---
Type XVIII U-boot
The XVIII was the first operational submarine design to use the Walter drive. The Walter engine used hydrogen peroxide for combustion, instead of outside air. Hydrogen peroxide is a liquid that can be stored in tanks aboard a submarine, but it also highly reactive and therefore dangerous. With the Walter engine the Type XVIII reached a speed of 24 knots underwater, but it was considered too dangerous. Orders for this type were cancelled in favour of the type XXI.
Type XXI U-boot
Derived from the hull of the type XVIII, the type XXI had a diesel-electric engine system comparable to that of older U-boats, but with greatly enlarged battery capacity. This earned it the name "Elektrik Boot". Together with the streamlined hull this allowed the type XXI to reach high speeds under water (17 knots submerged, 16 knots on the surface) and stay under water for up to three days. This made the 2100-ton type XXI U-boot a much more dangerous adversary than the older type VII, which had become far too vulnerable to allied aircraft. It carried 23 torpedoes for its six tubes, which were loaded hydraulically. Shipyards delivered 120 of this type to the Kriegsmarine, but it was too late. The type XXI was much copied after the war.
Type XXIII U-boot
The type XXIII was a 275-ton submarine for coastal operations. Like the XXI, it had an enlarged battery capacity. It was much smaller, and carried only two torpedoes. About 60 were delivered.
Acoustic Torpedoes
The T4, T5 Zaunkönig and T11 torpedoes were fitted with primitive acoustic homing devices. These were primarily intended for use against escort vessels. However, both the T4 and T5 were easily diverted by noisemaking decoys, which were towed by allied ships. The T11 did not enter service.

In a different category were the FAT and LUT devices. Fitted to standard torpedoes, these caused them to run in a preset pattern, instead of a straight line. They were intended for use against convoys.
---
Posted By: Cookie Monster
Date Posted: January 28 2007 at 1:35pm
---
The Next few Submarines are from the Royal Navy's WW II Fleet
HMS/M L26
Single hull, saddle tank submarines, improvements of the famous E Class of WW1. 36 boats built, of which three - L23, L26 and L27 - were still in service in 1939. Used mainly for training.
---
Posted By: Cookie Monster
Date Posted: January 28 2007 at 1:35pm
---

HMS/M Rorqual
Porpoise Class minelaying boat, one of six (others were Narwhal, Porpoise, Grampus, Seal and Cachalot)
---
Posted By: Cookie Monster
Date Posted: January 28 2007 at 1:36pm
---

HMS/M Clyde
One of the three River Class, (others were Thames and Severn). Double-hull, ocean-going boats, designed for long range and high speed. See Clyde. Severn and Clyde survived the war and were scrapped in 1946 in Ceylon and South Africa respectively. Thames had been lost on mines off Norway in 1940.
---
Posted By: Cookie Monster
Date Posted: January 28 2007 at 1:38pm
---

HMS/M Regent
Very similar to the P Class, the R Class comprised Rainbow, Regulus, Regent and Rover
---
Posted By: Cookie Monster
Date Posted: January 28 2007 at 1:38pm
---
HMS/M Scorcher
---
Posted By: Cookie Monster
Date Posted: January 28 2007 at 1:42pm
---
HMS/M Sturgeon
---
Posted By: Cookie Monster
Date Posted: January 28 2007 at 1:42pm
---

HMS/M Thorn
Lost in August 1942 in Mediterranean.
---
Posted By: Cookie Monster
Date Posted: January 28 2007 at 1:43pm
---

HMS/M Seraph in 1944
already with some streamlining, for use as a fast target to simulate newer U-boats.
---
Posted By: Cookie Monster
Date Posted: January 28 2007 at 1:45pm
---
Tony, I know all these carried .303 Enfield's on them used by their marines.

Cookie Monster
---
Posted By: Tony
Date Posted: January 29 2007 at 2:23am
---
Gives me the shudders. I went down in a sub once! Never again!! Like a coffin with engines!


-------------
Rottie (PitBulls dad.)


"If electricity comes from electrons, does morality come from morons

Born free taxed to death!!!


---
Posted By: Cookie Monster
Date Posted: January 29 2007 at 7:12am
---
Tony,

yes a long slender object filled with seamen, does not seem fun

CM
---